HabitMaster helps you build new habits.
Define your own tasks and a schedule to stick to: anywhere between daily and weekly.
Check off your accomplished tasks each day.
Watch your streaks of uninterrupted activity grow longer.
Level-up your habits.
Unlock accomplishments and badges, including your own personally-defined milestones.
Share your progress with friends.
HabitMaster runs in a web browser. You can access it from anywhere, including from your mobile device.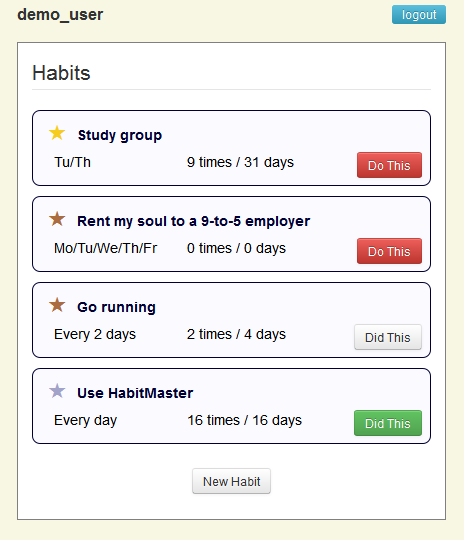 HabitMaster is still under development. You can:
Create an account on an live demo instance.*


(Warning: HabitMaster is still in an alpha state. There will be bugs, and your personal habit data could be wiped at any time!)

Learn more from the GitHub wiki.
Explore, copy, or contribute to the open-source (MIT license) code at GitHub.